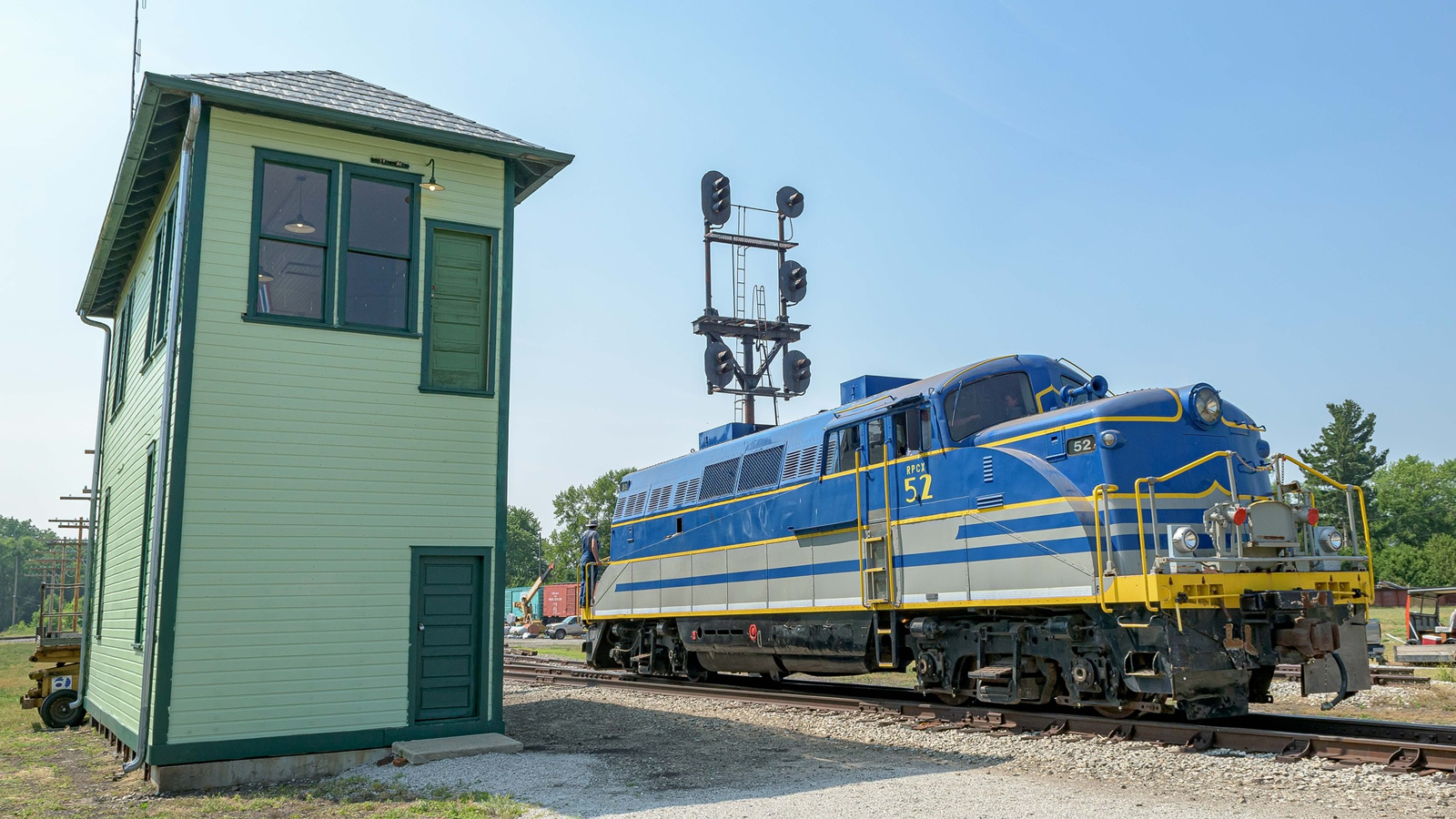 Grasselli Tower
Grasselli Tower is currently closed as we finish a multi-year restoration effort. The museum has launched the Step-By-Step Fundraiser help raise funds for a new set of stairs leading up to the second floor. Sponsor a tread, platform, or handrail!
The Hoosier Valley Railroad Museum in North Judson, Indiana, was given the opportunity by the Indiana Harbor Belt Railroad Company to acquire a very unique piece of railroad history - Grasselli Tower in East Chicago. The IHB decommissioned the tower during the later part of 2007 and promptly offered the tower to the HVRM. Grasselli was one of the last remaining railroad towers in Northern Indiana.
The Hoosier Valley Railroad Museum worked quickly to preserve this piece of American history and we couldn't have done it without the help of museum volunteers and many monetary donations!
About Grasselli Tower
One of the last working interlocking towers in the Chicagoland area was decommissioned in the late part of 2007. Grasselli Tower was located in East Chicago, Indiana, and once controlled the interlocking for the Elgin, Joliet & Eastern (EJ&E), the Indiana Harbor Belt (IHB), and the B&O Chicago Terminal (B&OCT). One of the "lesser known" towers, it was long overshadowed by its bigger brother a mile north - Calumet Tower, which has also since been decommissioned.
Grasselli Tower is a two story wooden structure that measures approximately 12' x 35' and consists of a 68 lever mechanical interlocking plant. Most of the levers remain, but a few were removed to make room for a new heating system that was installed by the IHB. The tower sat along along a very busy portion of the IHB's mainline and controlled the various switches and wayside signals used to control train movements.
Research has uncovered a few details about Grasselli Tower. Grasselli may have been built as early as 1906, but is confirmed to have been in place at least in 1916. A track diagram from 1916 for the interlocking plant shows that it was originally called RA Tower. The name "Grasselli" came from a long-gone chemical plant located near the tower that was served by the IHB.
The Hoosier Valley Railroad Museum moved Grasselli Tower from East Chicago to its new home in North Judson in May 2009. There was a lot of prep work required before the move and it took several months of diligent work and careful planning to make the move a success.
Interlocking towers were once a common feature along area railroads. Towers were once located in North Judson, Knox, Hamlet, Delong, Wellsboro, LaCrosse, and many other towns. All of these towers are now gone. The Indiana Harbor Belt gave the Hoosier Valley Railroad Museum a great opportunity to preserve a key piece of American railroad history. Grasselli Tower faithfully served the IHB for nearly a century and now it serves as the centerpiece of our operational signal system.
Photo Gallery
No images were found.