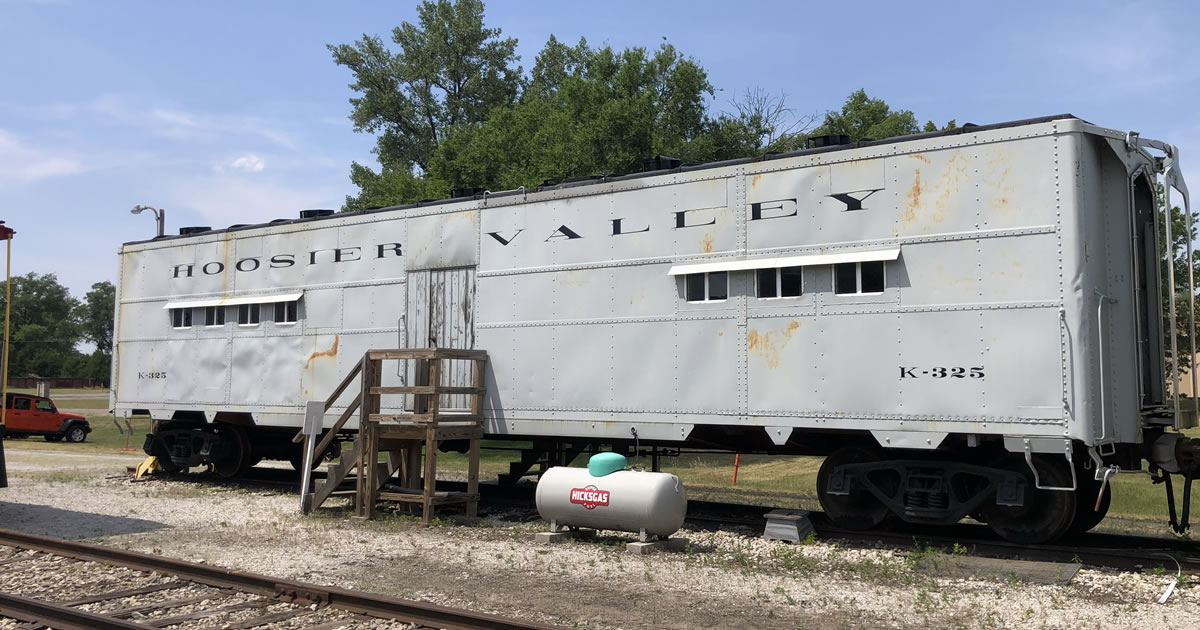 Troop Kitchen Car
| | |
| --- | --- |
| Builder | American Car & Foundry |
| Model/Type | Troop Kitchen Car |
| Status | Display |
Equipment History
This car was built by American Car & Foundry (AC&F) as U.S. Army Troop Kitchen car no. K-325. These cars were used as "rolling kitchens" by the military to feed the troops on route to various ports. This is one of two troop cars at the Hoosier Valley Railroad Museum, the other being our troop sleeper.
After the World War II ended, the car became surplus and was sold to the Chicago & Eastern Illinois Railroad and reconfigured as a tool car and given maintenance of way car number A-1054. It was assigned to the C&EI wreck train in Danville, Illinois, and was later transferred to the wreck train in Yard Center in Dolton, Illinois.
Sometime during its career on the C&EI, the cars Allied high-speed trucks, which allowed it to be run in passenger train service, were removed and replaced by a set of freight car trucks, probably from C&EI hopper car no. 88125.
After the C&EI was merged into the Louisville & Nashville and the Missouri Pacific railroads, the car was transferred to the MoPac where it was renumbered as MP X15096.
After an accident where the last ex-C&EI crane was tipped over cleaning up a wreck, the MP gave up it own wreck trains, using private contractors to provide clean up when an accident occurred. After sitting for some time unused, the car was eventually sold to Bob Harms of Lakeside Railway Services, who was one of the contractors doing rail cleanup. Bob used the car for storage at Yard Center, until it was donated to HVRM in 1996.
The car was remodeled by the museum to become our members-only meeting car. It currently wears a gray paint scheme with black Hoosier Valley lettering.