Bock Lumber Company No. 1 Coming to the Hoosier Valley Railroad Museum
Friday, August 20, 2021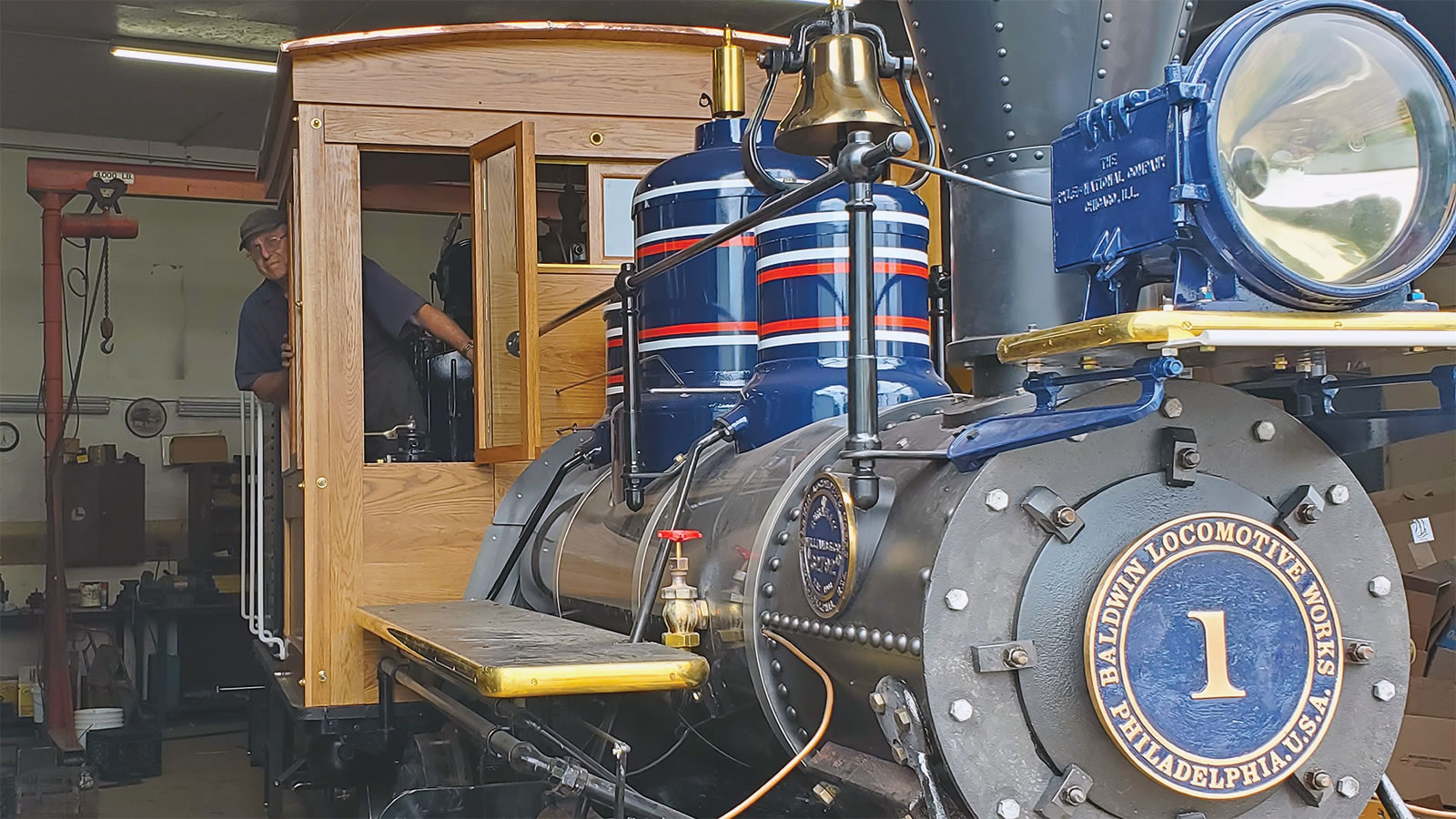 Fred Haberkamp poses in the cab of Bock Lumber Company No. 1. The steam locomotive has undergone an extensive rebuild and will soon be ready for service. It will soon be transported to the Hoosier Valley Railroad Museum in North Judson.
Steam to return to the railroad museum for the first time in over a decade
NORTH JUDSON, INDIANA – The Hoosier Valley Railroad Museum is excited to announce the forthcoming return of steam-powered excursions. The museum has entered into an agreement with the owners of Bock Lumber Company No. 1 that will allow steam to operate on a long-term basis in North Judson.
Bock Lumber Company No. 1 is an 0-4-4T Forney-type steam locomotive built in 1908. It has quietly undergone an extensive multi-year restoration at a facility in Illinois. The final touches are being applied to the locomotive with delivery to the museum expected in the coming weeks.
"This locomotive has such a unique look – something you would normally only find in a storybook," said museum treasurer Robert Barcus. "It's unlike any other steam locomotive you're going see out there. It really is quite impressive."
Bock Lumber Company No. 1 sports an attractive gray and blue paint scheme and is decorated with red and white pinstripes. It has an all-wooden cab with brass fixtures throughout and is adorned with polished accouterments.
"This is going to be such a huge draw for us," said Barcus. "Everybody loves steam because it seems alive, and I think people are really going to want to take a look at this little steamer for themselves."
Steam has not operated at the museum since 2011 when it ran a series of excursions in partnership with the Fort Wayne Railroad Historical Society. Museum volunteers will undergo extensive training as part of establishing its own steam program.
"We really don't expect to see this locomotive pulling passengers this year," said Barcus. "We're going to spend some time training our volunteers first and getting everyone accustomed to steam operations."
Forney-type steam locomotives were built in the late 1800s and early 1900s. Most of them were built for surface and elevated commuter railways. These locomotives were also commonly seen in mining and lumber operations. Sadly, very few Forney-type locomotives have survived. There are less than a handful of non-operational standard gauge Forney-type locomotives in existence in the continental United States. There are examples of narrow gauge Forneys in operation, primarily in Maine.
Bock Lumber Company No. 1 will be the only standard gauge Forney-type locomotive in operation on the continent. This makes it a unique survivor and huge attraction for rail enthusiasts, especially since it easily has not been under steam for more than a half-century.
Locomotive History
The locomotive was built for the Bock Lumber Company of Gainesville, Florida. It was constructed by the Baldwin Locomotive Works in Philadelphia, Pennsylvania, in May 1908 with serial number 32792.
After about one year in service to its original owner, it was subsequently sold to the Hanbury Lumber Company and later to the Maddox Foundry & Machines Works, both of Archer, Florida (dates unknown). In 1965, the locomotive was sold to B.J. Pollard of Detroit, Michigan, an apparent collector of steam locomotives. By the 1980s, the locomotive found its way to Maryland.
At some point in time, the locomotive had been disassembled and was awaiting its final fate in a scrapyard in Pennsylvania. Fortunately, it was rescued from the scrapper's torch before it could meet its doom. It found a temporary home in California until it was finally purchased by Fred Haberkamp of Chicago, Illinois.
Restoration Efforts
When Mr. Haberkamp purchased the locomotive, it was in dire need of an overhaul. Many of the pieces were in bad shape or missing. It was decided that a complete rebuild of the locomotive would be necessary to get it safely operational.
Having worked with Dave Kloke for many years during the construction and operation of the renowned Leviathan steam locomotive, Mr. Haberkamp hired Kloke to undertake the restoration of No. 1. For the last several years, the locomotive has been restored under the supervision of Kloke's watchful eye at his shop in Somonauk, Illinois. The attention to detail and the craftsmanship incorporated into this locomotive are second to none.
The locomotive has a brand-new modern boiler. It was designed by Chris DeWitt of the Nevada State Railroad Museum. DeWitt is the Chief Mechanical Officer of the NSRM and is very experienced in the restoration of steam locomotives. The boiler has been constructed with welded seams and is designed per The American Society of Mechanical Engineers standards to operate at 160 psi with a required hydrostatic test of 240 psi. Above the required ASME standards, the boiler also meets stringent internal quality control standards. Every part of the boiler has been designed to exceed safety standards.
About the Museum
Founded in 1988, the Hoosier Valley Railroad Museum is a 501(c)(3) non-profit educational organization dedicated to the preservation of railroad history in northwest Indiana. The museum educates the public through interpretive displays and its tourist railroad operations. Additional information about the museum can be found online at hoosiervalley.org or on the museum's Facebook page at @hoosiervalley.